Paws-itively Amazing: How to Choose the Perfect Pet-Friendly Cabin in Maggie Valley
In the heart of the Great Smoky Mountains is Maggie Valley, a picturesque destination that offers a serene getaway for travelers and their furry companions. With its lush forests, breathtaking mountain views, and charming local attractions, Maggie Valley is an ideal location for a pet-friendly vacation. However, finding the perfect cabin rental for you and your pet requires careful consideration. With the information below, we will provide you with tips and factors to consider when searching for a pet-friendly cabin rental in Maggie Valley, including size, amenities, and nearby activities, as well as insights on Smoky Mountain Rental Retreats.
1. Determine the Size of Your Rental Cabin
When looking for a pet-friendly cabin, the size of the property is an important factor to consider. Be sure to choose a cabin with enough space for you, your family, and your pet to ensure a comfortable stay. It is also essential to check if there is any limit on the number of pets allowed per cabin, as this may vary from one rental to another. Smoky Mountain Retreat Rentals offers various cabin sizes, ranging from cozy one-bedroom cabins to spacious multi-bedroom properties, ensuring that you find the perfect fit for your needs. Click here for our available cabins.
2. Check for Pet-Friendly Amenities
A pet-friendly cabin should not only accommodate your pet but also offer amenities that cater to their needs. Look for properties that provide pet beds, food, water bowls, and even pet toys. Additionally, inquire about any restrictions on where pets are allowed within the property, such as on furniture or in certain rooms. Smoky Mountain Retreat Rentals understands the importance of providing these amenities, and their pet-friendly vacation homes in Maggie Valley are designed with your furry companion's comfort in mind.
3. Consider the Cabin's Location
The location of your cabin rental plays a significant role in ensuring a memorable vacation experience. Opt for cabins that are situated near pet-friendly attractions in Maggie Valley, NC, parks, and hiking trails, allowing you and your pet to explore the beautiful surroundings of Maggie Valley together. Smoky Mountain Rental Retreats offers cabins in prime locations, providing easy access to popular spots like the Great Smoky Mountains National Park, Cataloochee Ski Area, and the Blue Ridge Parkway.
4. Research Nearby Pet-Friendly Activities
Before finalizing your cabin rental, research nearby pet-friendly activities and attractions that you and your furry companion can enjoy together. Maggie Valley and its surrounding areas boast numerous pet-friendly hiking trails, parks, and outdoor spaces. Some popular options include Soco Falls, Waterrock Knob, and the Big East Fork Trailhead. Additionally, you can find several pet-friendly restaurants and cafes in the area, where you and your pet can grab a bite to eat after a day of exploring.
5. Look for Secure Outdoor Spaces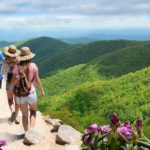 Having a secure outdoor space is essential for your pet's safety and comfort during your stay in a rental cabin. Look for cabins that offer fenced yards, enclosed decks, or patios, allowing your pet to enjoy the outdoors without the risk of wandering off. Smoky Mountain Rental Retreats' pet-friendly cabins feature secure outdoor spaces, ensuring that both you and your furry companion can relax and enjoy the stunning mountain views.
6. Inquire About Pet Fees and Policies
Pet-friendly rentals often require additional fees or deposits to accommodate your pet. Before making a reservation, inquire about any extra costs, as well as policies regarding pet behavior, damages, and cleaning responsibilities. Understanding these terms will help you avoid any surprises and ensure a hassle-free vacation experience. Smoky Mountain Retreat Rentals clearly outlines its pet policies and fees, making it easy for you to plan your stay.
7. Read Reviews from Other Pet Owners
One of the best ways to gauge the quality of a pet-friendly cabin rental is by reading reviews from other pet owners who have previously stayed at the property. This will give you valuable insights into the pet-friendliness of the cabin, the amenities provided, and the overall experience. Look for reviews that mention the property's responsiveness to pet-related concerns, the cleanliness of the cabin, and any possible issues or inconveniences that may have arisen during their stay. Smoky Mountain Retreat Rentals has a reputation for providing exceptional pet-friendly cabins, and their "paw-sitive" reviews from satisfied pet owners serve as a testament to their commitment to quality service.
8. Assess the Safety and Accessibility of the Cabin
When choosing a pet-friendly cabin, it is crucial to consider the safety and accessibility of the property. Look for cabins with easy-to-navigate floor plans, especially if your pet has mobility issues or is prone to accidents. Additionally, make sure the cabin is free of potential hazards, such as exposed electrical cords or toxic plants. Smoky Mountain Retreat Rentals takes safety seriously and ensures that their cabins are well-maintained and free of hazards to provide a secure environment for both you and your pet.
9. Plan for Emergencies
While no one wants to think about emergencies during a vacation, it is always best to be prepared. Research nearby veterinary clinics and emergency pet care facilities before your trip and keep their contact information readily available. This will give you peace of mind, knowing that you can quickly access professional help if your pet needs medical attention during your stay. Additionally, consider packing a pet first aid kit to address minor injuries or health concerns that may arise.
10. Communicate with the Rental Company or Owner
Lastly, maintain open communication with the rental company or owner throughout the booking process. Inform them about your pet's breed, size, and any special needs they may have. This will enable them to provide you with the most suitable pet friendly cabin options and ensure a smooth check-in experience. Smoky Mountain Retreat Rentals is known for its exceptional customer service, and its friendly staff is always available to address your questions and concerns.
Pet-Friendly Cabin Rentals in Maggie Valley: Smoky Mountain Retreat Rentals
Finding the perfect pet-friendly cabin in Maggie Valley may require some research and planning, but the result will be a memorable vacation experience for you and your furry companion. By considering factors such as size, amenities, location, and safety, you can confidently choose a cabin that meets your needs and provides a comfortable stay for your pet. Smoky Mountain Rental Retreats offers an array of pet-friendly cabin options, ensuring that you and your pet can enjoy the best of Maggie Valley in style and comfort. Happy travels! Visit our website today or feel free to contact us at 800-769-1177.