Escape to the Smokies: Unwind in the Perfect Cabin Near Maggie Valley,  NC with Smoky Mountain Rentals and Retreats
Discover the natural beauty and charm of Western North Carolina with a visit to Maggie Valley, a hidden gem nestled in the heart of the Great Smoky Mountains. Perfect for families and couples seeking a tranquil getaway, the area offers a wide range of outdoor activities, breathtaking landscapes, and cozy accommodations. In this comprehensive guide, we'll introduce you to Smoky Mountain Rentals and Retreat, your one-stop destination for finding the perfect cabin near Maggie Valley, NC, and delving into the many activities and attractions that await you in this enchanting mountain town.
Embracing the Great Outdoors
Great Smoky Mountains National Park: As America's most visited national park, the Great Smoky Mountains National Park offers an array of outdoor activities for all ages and skill levels. From scenic drives like the Blue Ridge Parkway to challenging hikes on trails such as Alum Cave and Chimney Tops, there's something for everyone in this expansive park. The park is also home to several historic sites, including Cades Cove, Mingus Mill, and the Mountain Farm Museum.
Lake Junaluska: Enjoy fishing, boating, and picnicking at the picturesque Lake Junaluska, a 200-acre lake surrounded by stunning mountain scenery. Take a stroll along the lake's 3.8-mile walking trail, rent a paddleboard or kayak, or simply relax and enjoy the view from the lakeside Rose Walk and Inspiration Point.
Maggie Valley Club & Resort: Experience a round of golf surrounded by breathtaking mountain views at Maggie Valley Club & Resort. This 18-hole, par-72 course offers challenges for golfers of all skill levels, while the on-site practice facility, golf shop, and club restaurant ensure a memorable day on the greens.
Cataloochee Valley: Discover the serene beauty of Cataloochee Valley, a remote area of the Great Smoky Mountains National Park known for its picturesque landscapes and abundant wildlife. Enjoy horseback riding, or hiking, or simply take a scenic drive to spot elk, white-tailed deer, black bears, and other native species in their natural habitat.
Smoky Mountain Rentals and Retreats: Your Perfect Cabin Cabins Near Maggie Valley NC Awaits
Romantic Retreats for Couples
Reconnect with your loved one in an intimate cabin designed for romance. Smoky Mountain Rentals and Retreats offer a variety of couple-centric accommodations, complete with private hot tubs, fireplaces, and stunning mountain views. Choose from options such as the Pilot's Paradise, with its outdoor hot tub with a secluded lake view and rustic charm, or the Alpine Sky, which boasts panoramic views and a private deck perfect for stargazing.
Family-Friendly Cabins
Create lasting memories with your family in a spacious, well-equipped cabin designed with kids in mind. Smoky Mountain Rentals and Retreats provide a range of family-friendly accommodations, featuring amenities such as game rooms, outdoor play areas, and ample living space. Consider options like the Alta Vista, with its outdoor fire pit and arcade games, or the Bear Way to Heaven, which offers cascading streams, a picnic area, and a large playground
 Luxury Cabins with Top-Notch Amenities
Indulge in the ultimate mountain getaway by booking a luxury cabin with exceptional amenities. Smoky Mountain Rentals and Retreats offer lavish accommodations with features such as gourmet kitchens, home theaters, and private saunas. Explore options like the Bear Hug Inn, with its opulent furnishings and expansive deck.
Budget-Friendly Options
Enjoy a cozy and comfortable stay without breaking the bank by choosing one of Smoky Mountain Rentals and Retreats' budget-friendly cabins. These options offer all the essentials for a memorable stay, including well-equipped kitchens, comfortable living spaces, and easy access to local attractions. Check out the charming Copper Mountain Retreat, which features a welcoming front porch, or the Dancing Bear, a quaint home with a large porch with an outdoor fireplace and sauna.
Planning Your Trip : Local Attractions
Explore the rich history and culture of the Maggie Valley area with visits to nearby attractions. Experience live music at the Maggie Valley Opry House, marvel at the collection of rare motorcycles at the Wheels Through Time Museum or learn about Cherokee history and culture at the nearby Cherokee Indian Reservation and Oconaluftee Indian Village.
Seasonal Events and Activities
Experience the beauty of the Smokies year-round with seasonal events and activities that showcase the region's natural splendor. In the fall, embark on a foliage tour to admire the vibrant colors of the changing leaves. During winter, hit the slopes at Cataloochee Ski Area, which offers skiing and snowboarding for all skill levels. In spring, join a wildflower hike to witness the blossoming flora, and in summer, attend one of the many local festivals and outdoor concerts that celebrate the warm weather.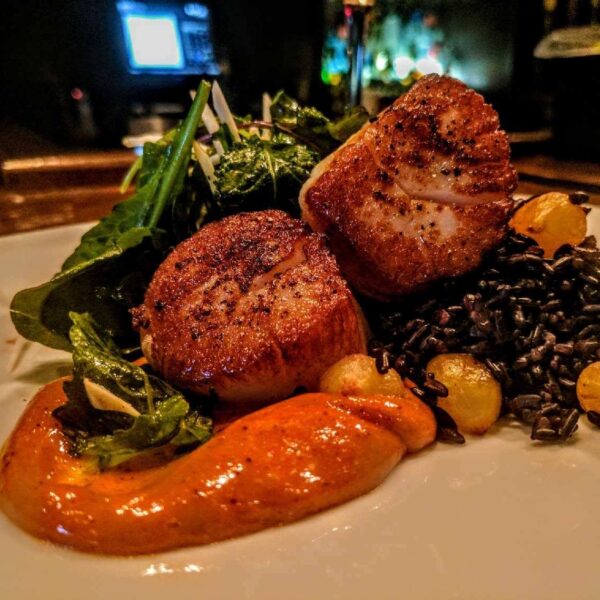 Dining in Maggie Valley
Indulge in the diverse flavors of Maggie Valley, where you'll find a range of dining options to suit every palate. Sample down-home Southern cooking at country-style diners or experience elegant fine dining at the many local family owned restaurants.
Shopping and Souvenirs
Bring home a piece of Maggie Valley by visiting local shops and boutiques that offer a variety of unique gifts, crafts, and souvenirs. Browse handmade pottery, jewelry, and woodworking or a selection of minerals, fossils, and gemstones  at the many different local shops.
Cabins Near Maggie Valley NC – Smokey Mountain Rentals and Retreats
Whether you're planning a romantic getaway, a family adventure, or a solo retreat, Smoky Mountain Rentals and Retreats offers the ideal accommodation for your stay near Maggie Valley, NC. With a variety of cabins to choose from, all nestled in the stunning Great Smoky Mountains, you'll find the perfect home away from home for your next mountain escape. Visit their website today and start planning the vacation of a lifetime.