Unwind in Nature's Embrace: Vacation Cabins Near Me in Maggie Valley 
Welcome to the serene oasis of vacation cabins near me in Maggie Valley! If you're seeking a refreshing escape surrounded by nature's beauty, look no further. Get ready to embark on an unforgettable journey where relaxation, adventure, and cozy accommodations await. At Smoky Mountain Retreat Rentals, we offer a wide range of vacation cabins that will make your getaway truly extraordinary.
Embracing the Splendor of Maggie Valley
Discover the hidden gem of Maggie Valley, nestled in the heart of the breathtaking Great Smoky Mountains. This charming town is a haven for outdoor enthusiasts and nature lovers alike. With its scenic hiking trails, cascading waterfalls, and picturesque landscapes, Maggie Valley provides the perfect backdrop for your dream vacation.
Indulge in the Charm of Cabin Vacation Rentals with Smoky Mountain Retreat Rentals
When it comes to vacation cabins near me in Maggie Valley, Smoky Mountain Retreat Rentals has you covered? Our cabins are more than just a place to stay – they are your home away from home, where you can relax, recharge, and reconnect with nature. Whether you're planning a romantic retreat, a family vacation, or a fun-filled getaway with friends, our cabins offer the perfect blend of comfort and adventure.
Cozy Vacation Cabins Near Me Amidst Nature's Embrace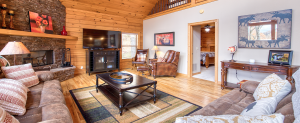 Step inside our cozy cabins and experience a world of warmth, comfort, and rustic charm. Each cabin is thoughtfully designed with your utmost comfort in mind. You'll find spacious living areas, well-equipped kitchens, and inviting bedrooms that provide a peaceful sanctuary after a day of exploring the wonders of Maggie Valley. Curl up by the fireplace with a good book, enjoy a family game night in the cozy living room, or savor a delicious meal on the private deck while soaking in the stunning views of the surrounding nature.
Maggie Valley is a playground for outdoor enthusiasts, and our vacation cabins near me put you right in the heart of it all. Lace up your hiking boots and embark on a scenic hike to discover hidden waterfalls and panoramic vistas. Challenge yourself with thrilling whitewater rafting adventures or reel in a trophy trout while fly fishing in pristine mountain streams. During the winter months, hit the slopes at Cataloochee Ski Area for a day of skiing and snowboarding. With nature as your backdrop, your days in Maggie Valley will be filled with exhilaration and tranquility.
Convenience is key when it comes to vacationing, and our cabins offer easy access to the best attractions in Maggie Valley. Explore the fascinating history of the region at the Wheels Through Time Museum, known for its impressive collection of rare and vintage motorcycles. Indulge in the local culture by visiting charming craft shops, art galleries, and quaint boutiques. And when it's time to satisfy your cravings, savor the mouthwatering flavors of Southern cuisine at the area's top-notch restaurants. Everything you need for a memorable vacation is just moments away from your cabin.
Booking Your Dream Vacation Cabin "Near Me" with Smoky Mountain Retreat Rentals
Booking your dream vacation cabin near me in Maggie Valley with Smoky Mountain Retreat Rentals is quick and easy. Our friendly and knowledgeable staff is ready to assist you in finding the perfect cabin that suits your preferences and budget. Whether you desire a romantic hideaway for two or a spacious cabin for the whole family, we have a wide selection of options to choose from. Don't miss out on creating unforgettable memories in the embrace of nature.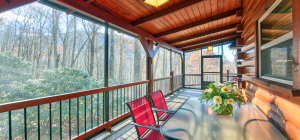 Unwind in nature's embrace and create memories that will last a lifetime in the beautiful Maggie Valley. With vacation homes near me offered by Smoky Mountain Retreat Rentals, you can immerse yourself in the splendor of the Great Smoky Mountains and experience the ultimate getaway. Our cozy cabins, nestled amidst breathtaking landscapes, provide the perfect setting for relaxation and adventure.
Don't miss out on the opportunity to escape the everyday hustle and bustle and indulge in the serenity of Maggie Valley. Contact Smoky Mountain Retreat Rentals today to book your dream vacation cabin. Our friendly and dedicated team is ready to assist you in finding the perfect cabin that suits your needs. Whether you're looking for a romantic escape, a family adventure, or a fun-filled retreat with friends, we have a wide range of options to choose from.
Unwind, rejuvenate, and immerse yourself in the natural beauty of Maggie Valley. Your unforgettable cabin getaway awaits. Contact Smoky Mountain Retreat Rentals now and let us help you create the vacation of your dreams.