Living Large: Experience the Splendor of Vacation Cabins in Maggie Valley
A vacation is an opportunity to break away from the mundane routines of everyday life, explore, unwind, and make unforgettable memories. While the destination plays a significant role, the choice of accommodation can profoundly impact the vacation experience. If you're considering a vacation that promises a mix of adventure, relaxation, and a generous dash of luxury, then vacation cabins in Maggie Valley, North Carolina, should be at the top of your list. Here, Smoky Mountain Retreat Rentals offers an unrivaled vacation experience with its selection of grand vacation cabins.
Why Choose Vacation Cabins?
The allure of vacation cabins lies in their perfect blend of rustic charm, comfort, and luxury. Unlike traditional hotel accommodations, vacation cabins offer a unique living experience, one that draws you closer to nature without compromising on comfort or convenience.
Living Large with Spacious Cabins
The notion of 'Living Large' encapsulates the experience of staying in one of Smoky Mountain Retreat Rentals' spacious cabins. Ranging from cozy two-bedroom cabins to impressive seven-bedroom homes, these cabins cater to various group sizes, from intimate family gatherings to large group vacations.
Each cabin features an open, spacious floor plan, comfortable living areas, fully equipped kitchens, and ample outdoor spaces, providing a sense of home that you'll hardly find in conventional hotel rooms. Larger cabins can accommodate up to fourteen guests, offering ample space for everyone to relax, unwind, and enjoy their vacation.
The Comfort of Luxury
What sets Smoky Mountain Retreat Rentals' vacation cabins apart is their commitment to providing luxury alongside comfort. Each cabin is meticulously furnished and equipped with modern amenities, ensuring that guests enjoy the comforts of home during their stay.
From the grandeur of fireplaces, the comfort of plush beds, and the convenience of fully-equipped kitchens, to the relaxation offered by hot tubs in some cabins, every detail is taken care of. Moreover, the fusion of rustic charm and contemporary luxury in the design of these cabins adds a unique aesthetic appeal, enhancing the overall vacation experience.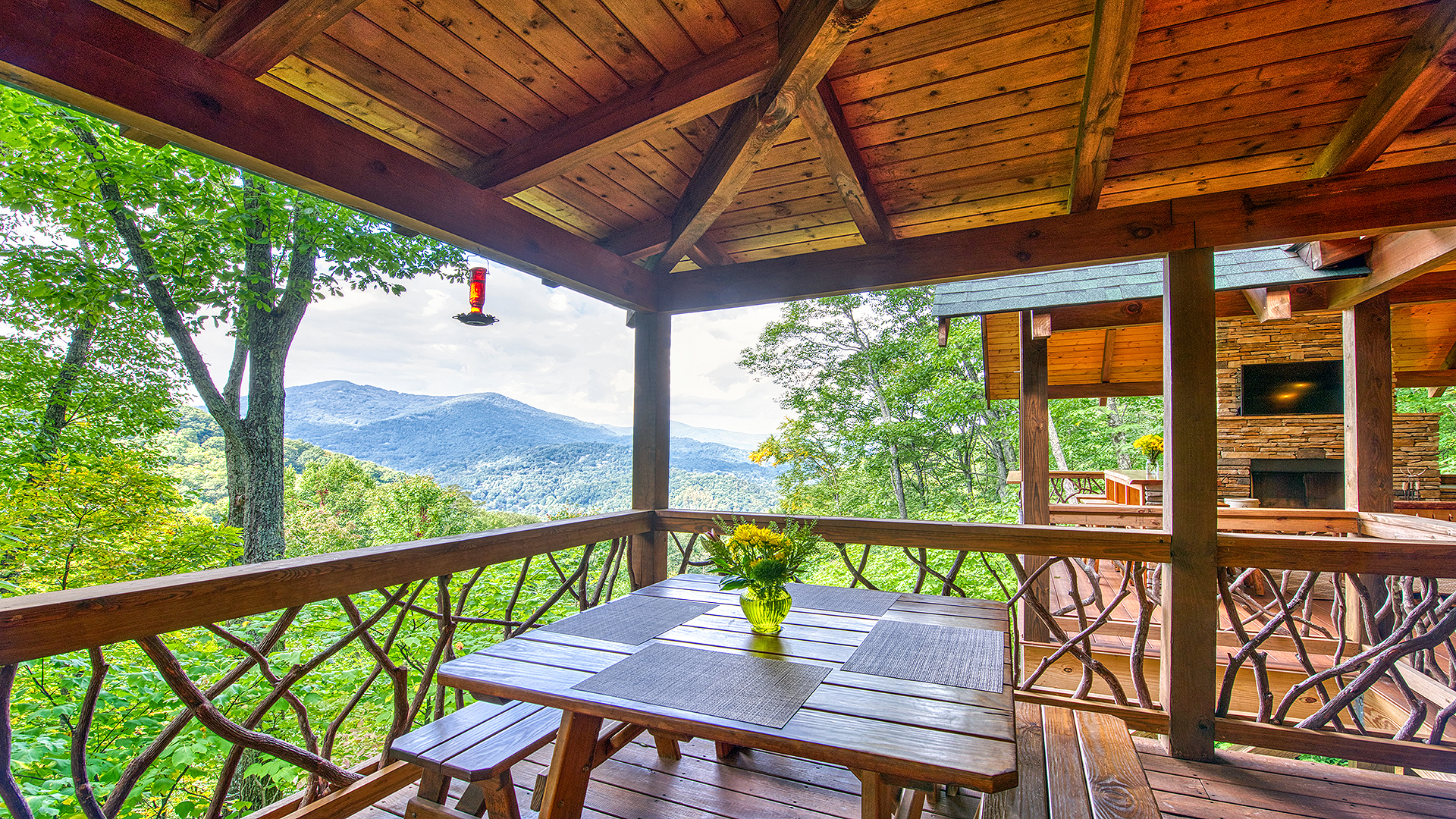 Experience Nature Up Close
One of the biggest draws of vacation cabins in Maggie Valley is the opportunity they offer to connect with nature. Smoky Mountain Retreat Rentals' cabins are strategically located amidst the lush greenery of the Smoky Mountains, offering stunning panoramic views and easy access to numerous outdoor activities. Whether you prefer a quiet morning walk, an adventurous hike, or simply relaxing while taking in the beautiful surroundings, these cabins provide the perfect base.
Convenience and Privacy
Despite the seemingly remote locations of these cabins, guests don't have to compromise on convenience. The cabins are nestled within three communities, close to Maggie Valley and Waynesville, surrounded by unspoiled beauty, and breathtaking views. They are located close to shopping areas, restaurants, and recreational activities, offering a perfect blend of isolation and accessibility.
Additionally, each cabin provides a sense of privacy that most hotels can't match. With separate bedrooms, multiple bathrooms, and private outdoor spaces, guests can enjoy their vacation in their own space and at their own pace.
Outdoor Activities Abound
When you choose to stay in one of the vacation cabins in Maggie Valley, you're not just selecting a place to stay – you're opting for an immersive experience that offers countless outdoor adventures. The cabins' close proximity to hiking trails, fishing spots, and scenic routes for cycling or walking means you can choose a new adventure every day. From bird watching to exploring the diverse flora and fauna, each day brings with it a chance to discover something new.
The Joy of Cooking
Having access to a fully equipped kitchen is another unique advantage of vacation cabins. Whether you enjoy cooking or just prefer homemade meals, the cabins give you the flexibility to prepare your favorite dishes. This can be a lifesaver for those with specific dietary needs or families with young children. Also, what could be better than enjoying a leisurely breakfast in your pajamas without worrying about restaurant timings?
Community Living
Smoky Mountain Retreat Rentals' cabins are located within their own three communities, adding an element of safety and camaraderie. This community experience can add an extra layer of joy to your vacation. You can meet and interact with fellow travelers, share experiences, and make new friends, all while enjoying your privacy.
Creating Lifelong Memories
A vacation is much more than a break from routine; it's an opportunity to create memories that last a lifetime. The unique experiences that Smoky Mountain Retreat Rentals' cabins provide make for unforgettable memories. Imagine watching the sun rise or set over the mountains from your porch, having a barbeque night under the stars, or simply cozying up with a book by the fireplace. These are moments you'll treasure long after the vacation ends.
Smoky Mountain Retreat Rentals; Vacation Rentals Maggie Valley
A vacation in Maggie Valley, North Carolina, promises a memorable experience, and choosing the right accommodation can make it even more special. Vacation cabins from Smoky Mountain Retreat Rentals offer the unique opportunity to live largely, combining the rustic charm of log cabins with modern luxury and comfort.
So, whether you're planning a romantic getaway, a family vacation, or a group retreat, consider the luxury, comfort, and unique living experience of these vacation cabins. To start planning your unforgettable mountain getaway, Book with  Smoky Mountain Retreat Rentals today. Don't wait, book your dream cabin today and start living large in the heart of the Smoky Mountains!