Unwind in Luxury: A Look at the Premier Cabin Rentals in Maggie Valley by Smoky Mountain Retreat Rentals
Maggie Valley, nestled in the heart of the Great Smoky Mountains, is a haven for those looking to escape the hustle and bustle of everyday life. With its stunning natural beauty, abundant outdoor activities, and charming local attractions, it's no wonder that travelers from all over the world choose to vacation in this picturesque mountain town. For those seeking the ultimate in relaxation and indulgence, the premier properties offered by Smoky Mountain Retreat Rentals provide the perfect setting for an unforgettable getaway. Below, we'll showcase the most luxurious properties, highlight their unique features and amenities, and discuss the benefits of choosing a luxury vacation rental in Maggie Valley.
Luxurious Properties by Smoky Mountain Retreat Rentals
Smoky Mountain Retreat Rentals is known for its exceptional selection of high-end vacation properties in Maggie Valley. These rentals offer a combination of upscale amenities, stunning mountain views, and unparalleled comfort, making them the ideal choice for a luxurious mountain getaway. Some of the most sought-after properties include:
Hidden Gem in Laurel Ridge Country Club
The gorgeous and luxurious home known as Hidden Gem boasts a breathtaking panorama. . There are four bedrooms and four bathrooms, with a large designer's kitchen to accommodate up to 8 guests. Brand-spanking-new gas fire pit to enjoy after a day of golf, shopping or outdoor fun.
Maple Leaf Lodge in Gate Smokey Mountain Retreat Community
This elegant property features seven bedrooms, a spacious loft, 4 ½ bathrooms,  a gourmet kitchen, and multiple living spaces for up to 14 guests. The expansive windows throughout the home provide stunning mountain views, while the outdoor living space, complete with a hot tub, fire pit, and spacious deck, invites guests to relax and enjoy the serenity of the area.
This luxurious home in the Gated Smoky Mountain Retreat community with its outstanding view is your perfect getaway spot. It offers an open floor plan with 4 bedrooms, 4 ½ bathrooms, and a great room with wood burning fireplace to gather after a day of fun in the Maggie Valley area.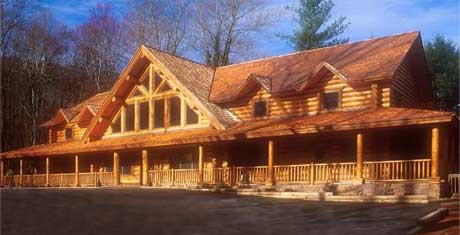 Unique Features and Amenities: What Sets These Properties Apart
Each of these premier properties offers an array of unique features and amenities that set them apart from other vacation rentals in the area. Some of the most notable include:
Gourmet kitchens: With top-of-the-line appliances, granite countertops, and custom cabinetry, these kitchens are a chef's dream come true. Guests can enjoy preparing meals for their loved ones or enlist the services of a private chef for a truly indulgent dining experience.
Spa-like bathrooms: The luxury doesn't end in the living spaces—each property features spa-like bathrooms complete with high-end fixtures, soaking tubs, and walk-in showers.
Custom furnishings and décor: No detail is overlooked in these exquisite rentals. From handcrafted log furniture to the original artwork and designer linens, each home is thoughtfully designed and impeccably furnished.
Entertainment and leisure amenities: Guests can enjoy a variety of on-site entertainment options, such as game rooms, home theaters, and outdoor living spaces with fire pits and hot tubs.
Unbeatable mountain views: The premier properties offered by Smoky Mountain Retreat Rentals are carefully chosen for their stunning mountain views, allowing guests to fully immerse themselves in the natural beauty of Maggie Valley.
Benefits of Choosing a Luxury Vacation Rental in Maggie Valley
Opting for a luxury vacation rental in Maggie Valley comes with a range of benefits that make your getaway even more special. Some of the top advantages include:
Privacy and Seclusion: Luxury vacation rentals offer a higher degree of privacy and seclusion compared to hotels and resorts. You can enjoy the peace and tranquility of your surroundings without the noise and interruptions often associated with crowded accommodations.
Personalized Experiences: With a luxury vacation rental, you have the flexibility to tailor your stay to your preferences. From hiring a private chef to arranging spa services or outdoor adventures, the possibilities are endless.
Quality Time with Loved Ones: A luxury cabin rental in Maggie Valley provides ample space and comfort for families and friends to come together, making it the perfect setting for creating cherished memories and reconnecting with your loved ones.
Enhanced Comfort and Convenience: High-end vacation rentals are equipped with upscale amenities and top-quality furnishings, ensuring that your stay is as comfortable as possible. With features like gourmet kitchens, spa-like bathrooms, and plush bedding, you can enjoy the ultimate in relaxation and indulgence.
Access to Local Attractions and Activities: Smoky Mountain Retreat Rentals' premier properties are conveniently located near a variety of local attractions, including hiking trails, golf courses, and skiing. Guests can easily explore the best that Maggie Valley has to offer, all while enjoying the comforts of their luxury rental.
Experience the Best of Maggie Valley with Smoky Mountain Retreat Rentals
Maggie Valley is an idyllic destination for those seeking a luxurious mountain escape. With the premier properties offered by Smoky Mountain Retreat Rentals, you can experience the best of this charming town while enjoying exceptional accommodations and world-class amenities. From stunning mountain views and unparalleled privacy to unique features and personalized experiences, these high-end cabin rentals provide the perfect backdrop for an unforgettable getaway. Whether you're planning a family vacation, a romantic retreat, or a getaway with friends, choosing a luxury vacation rental in Maggie Valley is a decision you won't regret. Book your stay today and start making memories that will last a lifetime.