The Ultimate Guide to Planning Your Maggie Valley Vacation with Smoky Mountain Retreat Rental
Maggie Valley, situated in the Great Smoky Mountains, is a small town in North Carolina that offers a variety of activities and attractions to visitors. Whether you're a nature lover, outdoor enthusiast, or simply seeking a peaceful escape, Maggie Valley has something to offer. A great way to make the most of your visit to this stunning destination is by staying in one of Smoky Mountain Retreat Rentals' cabins. With that in mind, we have created a comprehensive itinerary to help you plan your Maggie Valley vacation while incorporating a stay at Smoky Mountain Retreat Rentals.
Day 1: Arrival and Check-in
Once you've arrived in Maggie Valley, make your way to Smoky Mountain Retreat Rentals to check in and settle into your cabin or home. Depending on your travel time, you may want to take a quick stroll around the property to get a feel for your surroundings. Maggie Valley is known for its delicious Southern cuisine, so head into town to explore your dining options.  Be sure to check out Birchwood Hall Southern Kitchen.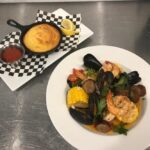 Day 2: Outdoor Adventures 
Maggie Valley is renowned for its outdoor activities. Begin your day with a visit to Cataloochee Ski Area, which offers skiing and snowboarding during the winter months, and hiking and mountain biking during the summer months. Take a hike, go mountain biking, or hit the slopes depending on the time of year. For a truly thrilling experience, consider going on a whitewater rafting trip with one of the local outfitters.
After your day of outdoor adventures, unwind and relax at your Smoky Mountain Retreat Rentals cabin. Take a dip in the hot tub or enjoy a meal cooked in the fully equipped kitchen of your vacation cabin.
Day 3: Scenic Drives and Shopping
Today, take a scenic drive along the Blue Ridge Parkway, which offers stunning views of the surrounding mountains and valleys. Stop at some of the overlooks along the way to take in the breathtaking scenery and snap a few photos. Also, be sure to visit the Wheels Through Time Museum, which showcases vintage motorcycles and other forms of transportation.
In the afternoon, spend some time exploring the shops and galleries in downtown Maggie Valley. Maggie Mountaineer Crafts Center is an excellent spot to check out the work of local artisans. For dinner, head to Bogart's Restaurant and Tavern to enjoy a juicy steak, salad, and a mixed drink.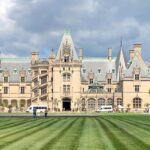 Day 4: Day Trip to Asheville
Take a break from the mountains today and drive to the nearby city of Asheville, which is known for its vibrant arts scene. Begin your day with a visit to the River Arts District, which is home to dozens of galleries and studios showcasing the work of local artists. Next, head downtown for lunch at one of Asheville's farm-to-table restaurants.
In the afternoon, visit the Biltmore Estate, one of the most popular tourist attractions in the area. This grand estate features a 250-room mansion, beautiful gardens, and a winery. You can easily spend several hours exploring the grounds before heading back to Maggie Valley for dinner at Bourbon Barrel Beef & Ale.
Day 5: Relaxation and Downtime
On your last day in Maggie Valley, take some time to relax and enjoy the amenities at your Smoky Mountain Retreat Rentals cabin. Spend the morning lounging on the deck, soaking in the hot tub, or playing games in the game room. For lunch, pack a picnic and head to the Great Smoky Mountains National Park for a hike or a scenic drive.
In the evening, have dinner at Snappy's Italian Restaurant, which serves up classic Italian dishes like pasta and pizza. Before you head back home, take a moment to reflect on your incredible Maggie Valley vacation and all of the memories you've created.
Smoky Mountain Retreat Rentals: Maggie Valley's Top Choice for Cabin Rentals
Smoky Mountain Retreat Rentals offers a variety of cabins to choose from, ranging in size from cozy one-bedroom cabins to spacious four-bedroom cabins that can accommodate larger groups. Each cabin is fully furnished with all the amenities you need for a comfortable and relaxing stay, including a fully equipped kitchen, comfortable living areas, and outdoor spaces to enjoy the stunning mountain views. Some cabins also offer hot tubs, game rooms, and other amenities to make your stay even more enjoyable. Click here to search cabins and homes offered.
Additional Activities and Attractions in Maggie Valley
While the above itinerary covers many of the highlights of Maggie Valley, there are still many other activities and attractions to consider during your stay. For example, if you're interested in history, you might enjoy visiting the Museum of North Carolina Handicrafts or the Maggie Valley Civil War Museum. Alternatively, if you're looking for more outdoor activities, consider taking a scenic drive on the Cherohala Skyway or visiting the Pisgah National Forest.
During the winter months, Cataloochee Ski Area is a popular destination for skiing and snowboarding, and there are also opportunities for snowshoeing, snowmobiling, and other winter sports. In the summer, the area is ideal for hiking, mountain biking, and fishing.
Overall, Maggie Valley and the surrounding area offer a wide range of activities and attractions to suit every interest and preference. Whether you're seeking adventure, relaxation, or a little bit of both, a visit to Maggie Valley with Smoky Mountain Retreat Rentals is sure to be an unforgettable experience.
Planning Your Maggie Valley Vacation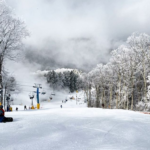 When planning your Maggie Valley vacation with Smoky Mountain Retreat Rentals, there are a few things to keep in mind. First, be sure to book your cabin well in advance, especially if you're planning to visit during the peak season. Smoky Mountain Retreat Rentals' cabins are in high demand, and booking early will ensure that you get your preferred dates and accommodation.
Another thing to consider is transportation. While it's possible to explore Maggie Valley and the surrounding area by car, you may want to consider renting a bike or motorcycle to experience the stunning mountain scenery up close. Several local outfitters offer bike and motorcycle rentals, as well as guided tours.
Finally, be sure to pack appropriately for your trip. Maggie Valley experiences a wide range of temperatures throughout the year, so it's important to bring layers and gear for all types of weather. You'll also want to bring comfortable shoes for hiking and other outdoor activities, as well as swimsuits for the hot tubs and pools at your cabin.
Smokey Mountain Retreat Rentals: Your Perfect Cabin Rental in Maggie Valley NC Awaits!
Maggie Valley is a beautiful destination that offers something for everyone, from outdoor adventures to shopping and dining. And with a stay at Smoky Mountain Retreat Rentals, you'll have all the comforts of home in a luxurious cabin setting. Whether you're looking for a romantic getaway, a family vacation, or a solo retreat, use this ultimate guide to plan your perfect Maggie Valley vacation and get ready for a trip you'll never forget! Contact us today!