It's winter and time for skiing, snowboarding, and tubing. Cataloochee Ski Area is one of the best places for a day in the snow.
About 5 miles north of Maggie Valley, Cataloochee Ski Area is a popular place for tourists and residents alike to be out on a pleasant winter day.
RELATED: What you will see at Cataloochee Ski Area told through Instagram
Here are 4 things to do while there:
---
Ski or snowboard down the mountain
The most obvious (and most fun) is to rent skis or a snowboard and soar down the mountain. Or you can bring your own set!
Get your ticket or pass and enjoy any of the 18 slopes — two of which are "advanced" or "expert" hills. (Know your skill level before attempting these hills.)
Take a look at the map: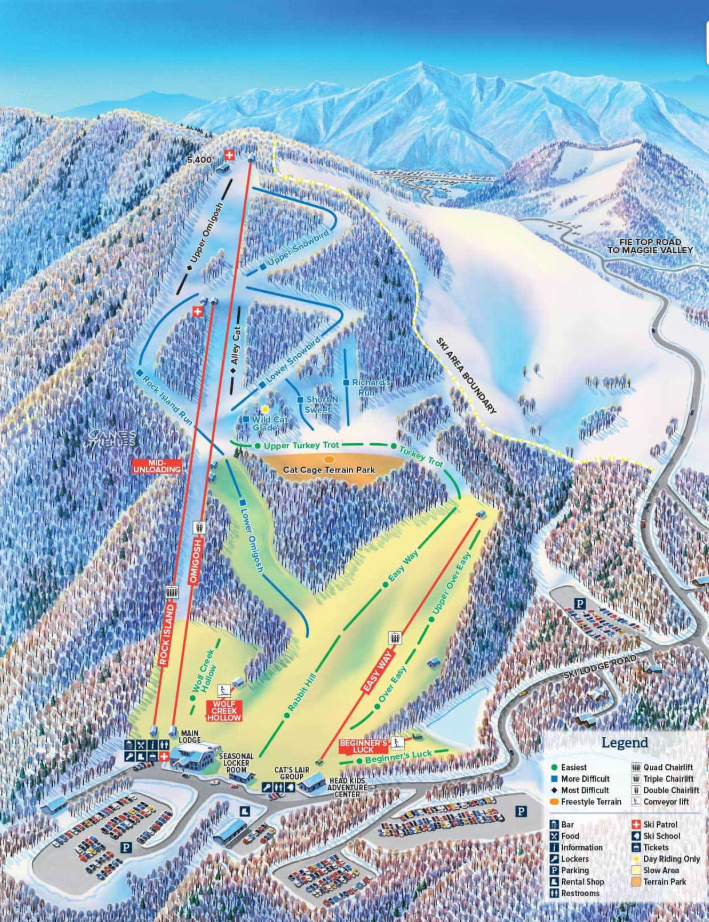 Dress accordingly for the weather. The snow, wind, and snowmakers could be chilly if you do not have adequate clothing.
You'll be 5,400 feet above sea level at the top of the mountain and 4,660′ at the bottom of the hill.
Click here to view a live webcam of the base of the mountain
Tubing down the mountain
In a similar way to skiing, slide down the mountain in a tube!
Although tubing is not actually in Cataloochee Ski Area, it's about 10 minutes from the resort.
Get your tickets and enjoy a white day sliding down a hill!
Rent a cabin

When staying in or near Cataloochee Ski Area, have access to tons of cabins and hotels in the area. Just to name a few:
Most of these are only a few miles from Cataloochee Ski Area. Look through a list of all the available cabin options here!
Rustic interiors, wide front porches, and vast expanses make for a fun vacation. Hey, you may even get a little snow while visiting!
Attend an event
The ski area promotes specific events and deals on some days. Here are some of the events offered:
Tuesdays are Family Days. A child 17 and under will receive a free lift ticket when accompanied by a parent purchasing a full price adult day lift ticket.
Military Appreciation Days. Cataloochee supports our armed forces by offering a special reduced rate for military personnel with valid i.d. and their families.
Law Enforcement Appreciation Days. Cataloochee supports the law enforcement by offering a special reduced rate for law enforcement personnel with valid i.d. and their families
Women on Wednesdays. Advanced women instructors teach women classes.
Homeschool Days. Homeschoolers get special rates on lift tickets, lessons, and rentals when presenting their Homeschool credentials.
NASTAR Public Racing Program. A public racing program that provides recreational racers with an opportunity to compare their ability to the fastest member of the US Ski Team (USST).
---
RELATED: Cataloochee Ski Area
We represent and offer vacation cabin rentals in three Western North Carolina communities: Eagles Nest, Laurel Heights, and Ridgewood Estates. Browse and select a luxurious cabin for one or many people in or near Waynesville and Maggie Valley. Our office is located in the heart of the Smoky Mountains between Asheville and Cherokee.